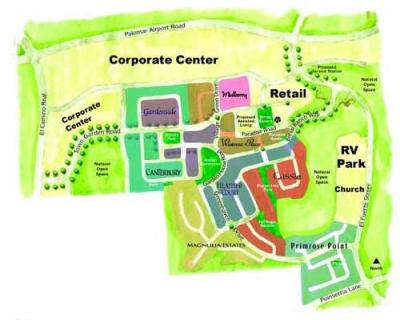 Bressi Ranch is an affluent, large (New Urbianist) mixed-use development southeast of the intersection of El Camino Real and Palomar Airport Road. It features a village core with eight neighborhoods, over 2 million square feet of commercial space, and over 180 acres of open space. The open space is designed for the preservation of natural resources and outdoor recreation and includes trails and a village green that will serve residents.
Click to read more about the Bressi Ranch subdivision of Carlsbad or see the Bressi Ranch homes for sale below.
Bressi Ranch, Carlsbad
The community is approximately 4.5 miles east of Carlsbad's world famous beaches and less then two miles east of Legoland Park, Carlsbad's famous flower fields, Carlsbad's Factory Outlet Stores, and the new Carlsbad municipal golf Course.
The Neighborhoods of Bressi Ranch
There are 623 homes in Bressi Ranch in Eight Distinct neighborhoods. Lennar, is the builder of six of Bressi Ranches single-family detached neighborhoods. These neighborhoods include; Canterbury, Cassia, Primrose Point, Gardenside, Heather Court, Magnolia, (New homes still available!), and Wisteria Place.
Lennar also completed Mulberry, A City of Carlsbad required affordable housing neighborhood of for-sale Condominiums that was offered to buyers who meet strict income and asset requirements established by the city. The second builder was Barratt American, who built Magnolia Estates; which are semi custom homes.
There is a commercial and light industrial buffer zone along the Palomar Airport Road boundary and an open space buffer along El Camino Real. The community has plenty of open space with several parks, walking trails, and natural areas. In fact, 33% of the community of Bressi Ranch is open space. There is also a new independent, non-public school... Pacific Ridge School, which opened in the fall of 2007. Pacific Ridge serves 7th - 12th graders.
Bressi Ranch Realtor
Contact a Bressi Ranch Realtor to learn more about buying or selling a home in the Bressi Ranch Subdivision of Carlsbad CA.