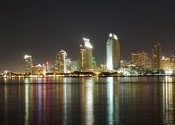 San Diego is known by many as "America's finest city to live in". Maybe it's the beautiful landscape, the perfect weather, or the seemingly endless stretch of beach, but whatever the reason, it has resulted in the citizens of San Diego appearing to be more relaxed, inspired and comfortable in their approach to life.
And who wouldn't be when you can leave in the decidedly upscale downtown and in a couple of hours, drive to the base of a snow capped ski hill or head the other way and be fishing in the blue waters of the Baja before noon!
The revitalization of San Diego's downtown neighborhoods has created an upscale community for thousands of the "in crowd" to live, work and invest. In fact, the eternal appeal of this magnificent part of the world will ensure that your San Diego real estate investment will be a sound and secure one for generations to come.