The present city of El Cajon can trace it's beginnings back to a land grant by California Governor Pio Pico in 1845. The Governor confiscated the lands of Mission San Diego de Alcala and granted the eleven square leagues of El Cajon Valley to Dona Maria Antonio Estudillo, wife of Don Miguel de Pedrorena, to repay a $500 government obligation. The grant included generally the present communities of Lakeside, Santee, Bostonia, Glenview, Johnstown, El Cajon, and part of Grossmont. Yet this land remained mostly unused until after the American Civil War, California's admittance into the Union and the California Gold Rush.
Click to read more about El Cajon CA real estate or see the El Cajon CA homes for sale below.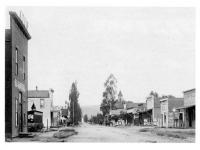 During the California gold Rush, the gold mining operations in Julian brought a steady trek of freight traffic hauling equipment and supplies and ore between San Diego and Julian. The natural line of drift led the teamsters down the old Mussey grade (now covered by San Vicente Reservoir), south to the present site of Magnolia and Main, then west through the Grossmont Pass into San Diego., Knox had moved into the Valley in 1869 to build Lankershim's house and manage his wheat ranch. Noting the teamsters' habit of camping overnight at the present site of Main and Magnolia, he erected a seven room building as a combination residence and hotel on its southwest corner in 1876. Small additions were followed by a large two story annex In 1882.