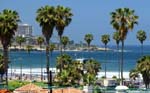 Experience a little taste of Europe within the city limits of San Diego. La Jolla CA is one of the most affluent and beautiful communities in America. Wandering through the town past sidewalk cafes, fine restaurants and art galleries provides La Jolla CA residents and visitors alike the sense of being on a perennial vacation. Add to this the world renowned educational facilities of Scripps Institute of Oceanography, the Stephen Birch Aquarium and Museum and the University of California, San Diego and you readily see why La Jolla real estate is so much in demand.
Click to read more about La Jolla real estate or see the La Jolla CA homes for sale below.
La Jolla CA Homes
All Listings
$200,000 - $300,000
$300,000 - $400,000
$400,000 - $500,000
$500,000 - $600,000
$600,000 - $700,000
$700,000 - $800,000
$800,000 - $900,000
$900,000 - $1,000,000
Over $1,000,000
La Jolla CA Real Estate
You will find a wide variety of La Jolla homes from ocean view to cozy cottages and exclusive beach front mansions. If you are wondering how the La Jolla market is doing, the median list price of a La Jolla home currently is just under $2,000,000.  The median days on market has been about 60 days with sale prices realizing approximately 95% of the listing price. So, as a potential buyer or seller of a La Jolla Home it is especially important to work with an agent who knows the La Jolla real estate market. In Fact, we guarantee that we can save you money!
La Jolla Realtor
Contact a La Jolla Realtor to learn more about buying or selling a La Jolla CA home.