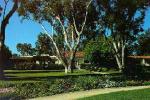 Call 760-744-5755 Now for immediate answers to ANY of your Rancho Santa Fe Real Estate Questions...
Rancho Santa Fe real estate is the highest priced in San Diego County and rightfully so! Located just 25 miles north of San Diego this exclusive village of Rancho Santa Fe CA was developed with care from its initial concept. Carefully sculpted from the original eucalyptus forests, Rancho Santa Fe became famous for its controlled growth and unified architectural theme.
This exclusive community's roads wind past beautifully landscaped homes that preserve the uniqueness of this area. Both the public buildings and residential properties have preserved the inherent beauty of this area by incorporating a Spanish Revival Style. Not only is Rancho Santa Fe a prosperous and serene community in which to live, but it is also family oriented with exceptional schools and supervised year round activities for the community's youth.
Rancho Santa Fe Real Estate Listings
For a look at the newest Rancho Santa Fe Real Estate Listings currently available please visit our Rancho Santa Fe MLS page, which features our unique interactive Rancho Santa Fe Real Estate Map.
Rancho Santa Fe Real Estate Agents
Contact a Rancho Santa Fe Realtor to learn more about buying or selling a home in Rancho Santa Fe CA. area of San Diego County.