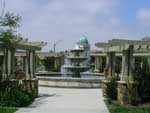 Awarded the "Master Planned Community of the Year" in 2001 by the National Association of Home Builders (NAHB), San Elijo Hills is a fantastic community within the City of San Marcos. Surrounded by and located in the emerald green coastal hills many of the neighborhoods in San Elijo Hills enjoy fantastic ocean views. If you are looking for a new, or almost new home with the best that Southern California has to offer then San Elijo Hills just might be the perfect place for you.
Click to read more about San Elijo Hills real estate or see all San Elijo homes for sale below.
San Elijo Hills CA
Located just south west of Lake San Marcos, East of Carlsbad, and North East of Encinitas is San Elijo Hills. San Elijo Hills is tucked into the emerald hills which give San Elijo it's name. From the moment you drive in you will find this community has a small town atmosphere. San Elijo Hills includes a traditional Town Square, two new schools, and a 19.5 acre park. The San Elijo Hills real estate market offers many diversified subdivisions with a huge range of different sizes, styles, and types of properties. In fact, there is almost something for anyone.
If you are looking for that great small town feel yet the convenience of being close to everything check out the San Elijo Hills Real Estate listings on this site. If you have any questions about any of these home feel free to give one of our agents a call and we will be happy to answer any of your San Elijo Hills real estate questions.